Posted on September 13, 2010 by admin
Climbing Wall for Hire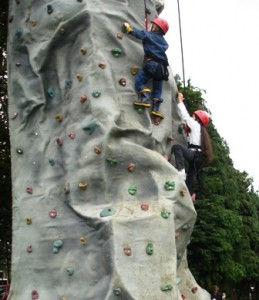 The Canal Communities Regional Youth Service operate a mobile climbing tower which is available primarily to youth/community projects and groups in the Canal Communities Area of Dublin City. It can also be hired by youth projects and groups outside Dublin.
The Mobile Climbing Wall can be used for a wide range of events to include motivational exercises, training and development events and corporate challenges.
The Mobile Climbing Wall is transported on an integral trailer system and erected via a hydraulic system – if outdoors, the trailer remains attached for stability whereas if indoors, the trailer can be detached to reduce the floor space required. On average the Tower requires 30 minutes to have it positioned, erected and ready to use.
The dimensions of the Mobile Climbing Wall are as follows:
Height – 7.5 metres
Base – 2.7 metres x 2.7 metres (excluding trailer)
The Mobile Climbing Wall has four climbing routes and can accommodate up to four climbers simultaneously with a range of difficulty on each route giving a total of sixteen climbing routes/options on the tower.
The Mobile Climbing Wall contains a  clip and climb system that allows climbers to enjoy the climbing experience in complete safety and comfort. An instructor shall be on hand to assist climbers in the use of the personal safety equipment, harnesses, helmets as well as specific coaching in climbing itself.
The activity including the Tower and all of the PPE is suitable for budding climbers from 3 years of age upwards with no upper limit.
For more information please contact us on 01 473 8439 or at info@ccrys.org
Climbing Wall Cert of Conformity
Climbing Wall Booking Request form